Our Technology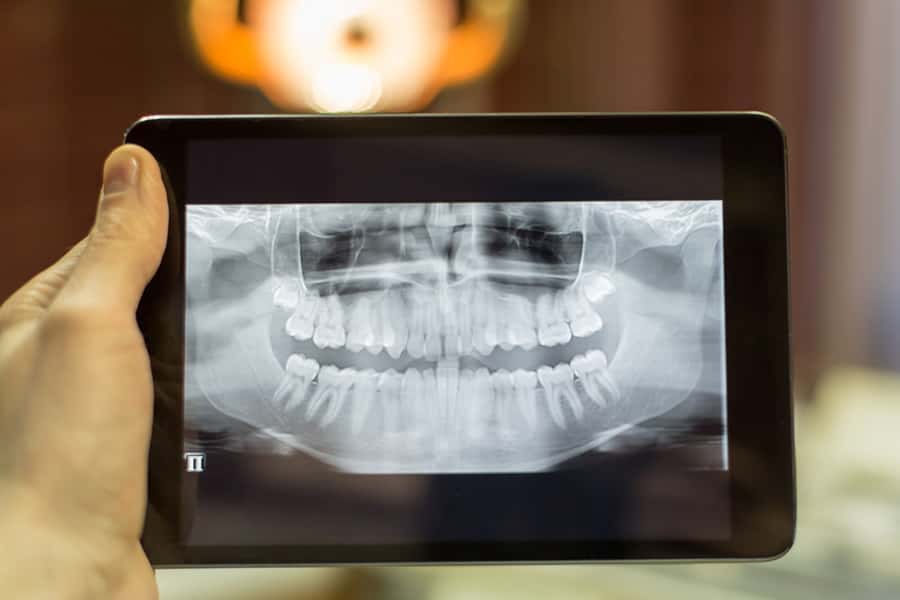 Digital Panoramic Images
Digital x-rays are quickly becoming adopted by a large percentage of the dental industry. A digital x-ray allows your dentist in Cheboygan, MI to take an image of the tooth or teeth and put it into an imaging program. Within this imaging program, there are a number of tools that will allow Dr. Free to take a very close look at the teeth and surrounding structures with amazing accuracy. As a benefit to the patient, the digital x-ray also provides nearly 80% less radiation than a standard x-ray. This is due to the fact that the digital version of the x-ray is much more sensitive to this radiation and has been specifically designed with the patient in mind.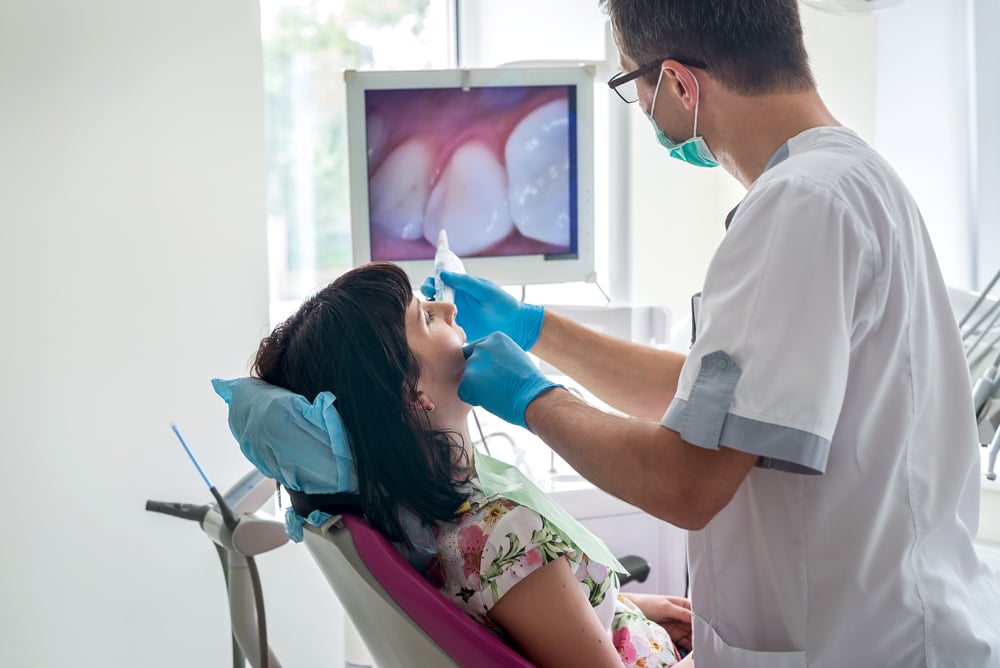 Intra-Oral Camera
The intraoral camera is an amazing diagnostic tool for viewing different angles in the mouth that we would not have been able to just a few years ago. The camera gives us the ability to view the entire mouth on a monitor so that we can get a closer look at any potential issues or problems that may arise. In addition, the patient will have the ability to see for themselves first hand the same images we are seeing. These digital images are also excellent for gaining procedure acceptance from insurance companies.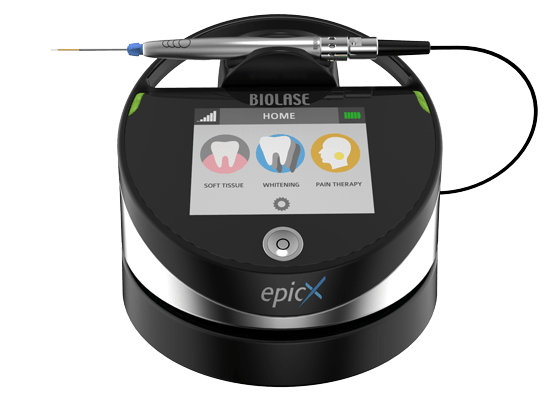 Biolase lasers have been used in dentistry for several years now. The use of lasers has expanded to more than just treating hard and soft tissue oral problems. With the Biolase Laser, we are able to treat several oral soft tissue problems including, gingival crown lengthening, cleanings, gum therapy, frenectomies, gingivectomies, exposure of unerupted teeth, excision for biopsies to name a few. Another great feature of the Biolase Laser is that it has been cleared to provide treatment for temporary relief of minor pain. Most of all these procedures can be done at a minimal cost to our patients! Biolase lasers help the patients relax because they know that they are in safe hands.
Electric Handpieces
There are basically two types of handpieces, air-driven and electric. Electric handpieces are much stronger than air-driven due to the fact that a motor is spinning the bur as opposed to air. This allows Dr. Free at Today's Dental to remove decay at a faster pace. This will cut down on the time it takes to complete a procedure.
Rotary Endodontics
Endodontics, more commonly known as root canal, is a procedure where the roots or nerves of the tooth are removed. This is often due to the fact that they are infected and the tooth is causing pain. Rotary Endodontics is a way of performing the root canal utilizing a specific electrical handpiece. This tool often makes the process faster and allows your dentist in Cheboygan, MI to perform the process with greater ease.
Instramentrium 3D Cone Beam Scanner
We strive to keep abreast of the newest innovations in dental technology in order to provide you with the safest and most effective treatment options. With this in mind, we are pleased to offer the Galileos 3D cone beam scanner from Sirona.
The Galileos scanner generates a 3D image after only 14 seconds, providing an exceptionally high image resolution in a short period of time. This means less waiting time for a diagnosis and quickly generated treatment plans. Utilizing the Galileos scanner, we are able to quickly assess your dental needs and have you back out enjoying your life in less time than you might expect from traditional imaging equipment.
The health and safety of our patients is our highest priority, which is why we utilize the Galileos scanner. Unlike traditional imaging equipment, the Galileos scanner emits the lowest level of radiation while providing a superior image. We are delighted to offer our patients this exceptionally reliable imaging technology with an unprecedented safety rating.
So much more than simple x-rays, 3D technology takes dental imaging to the next level. With the clear view of facial nerves and bone structure provided by 3D imaging, we can customize your procedures to protect your delicate nerve endings, thus minimizing pain and speeding healing. The Galileos can even reveal sinus issues and help and in the diagnosis of conditions like sleep apnea.
We look forward to offering you the finest 3D imaging available today, and invite you to get acquainted with the Galileos 3D cone beam scanner at your next appointment at Today's Dental!
Digital CEPH
Cephalometric X-rays are completely painless. The patients head rests on the machine while the arm rotates around the head capturing images of the face, mouth and teeth. The images are usually magnified up to 30%, so signs of decay, disease or injury can be seen and treated.
After capturing cephalometric X-rays, Dr. Free will be able to see a complete side profile of your child's head. This assists in orthodontic planning, and allow an immediate evaluation of how braces might impact your child's facial profile and teeth. The X-ray is also to determine specific measurements prior to the creation and placement of dental implants.
Cephalometric X-rays serve several important functions:
Provide views of the side profile of the face
Provide views of the jaw in relation to the cheekbone
Provide information about "bad bites" or malocclusions
Allow measurement of the teeth
Identify fractures and other injuries to the teeth and jawbone
Assists in orthodontic planning
Surgical Telescopes
The purpose of Surgical Telescopes is to enhance or magnify an image to insure the highest quality results in surgical procedures. We take our responsibility to surgeons and their patients seriously so all of our Surgical Telescopes provide the TRUE magnification that is expected.
Ultrasonic Scaler
Ultrasonic scaler an ultrasonic instrument with a tip for supplying high-frequency vibrations, used to remove plaque and calculus from teeth and bits of inflamed tissue from the walls of the gingival crevice.
Self-Contained Water Supply
Proper infection control interrupts the spread of disease agents. To be confident that our dental office in Cheboygan, MI is a safe place to deliver dental care, we are vigilant in our infection control practices. All units have self-contained, disinfected water. Prudent infection control policies and practices are vital in providing safe patient care. Monitoring and maintenance of dental unit water quality is an essential part of routine infection control practices.
Digital Patient Charts
Digital Patient Charts are an electronic medical record in a digital version of a paper chart that contains all of a patient's medical history from one practice, and can be used by providers for diagnosis and treatment.
Digital Patient Charts are more beneficial than paper records because it allows providers to:
Eco-Friendly/Paperless
Dentist/Assistant/Hygienist can directly enter information
Other departments/providers/staff can easily review or enter information/orders
Duplication is minimized
Medication errors are minimized/eliminated
Time is saved by not having to look through paper records
If a patient moves, it's easier to transmit records to the new provider
Referrals - We are able to correspond with specialists faster and more accurately to provide the best care possible
Designs to contain and share information from all providers involved in a patient's care